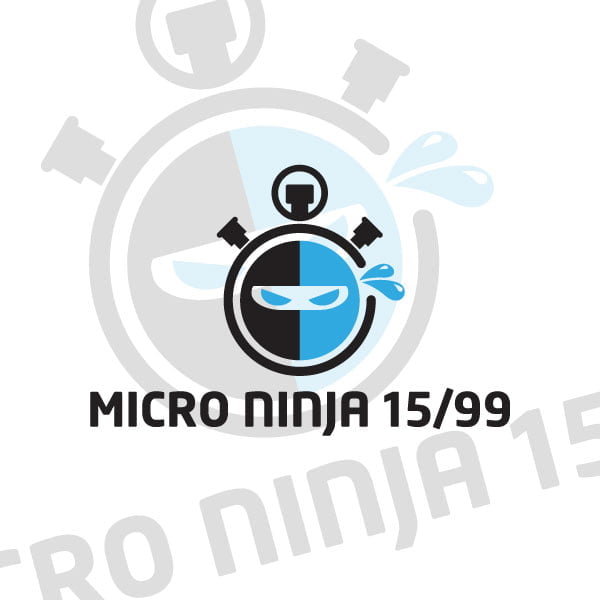 COVID-19 STATEMENT
Micro Ninja 15-99 has demonstrated effectiveness against viruses similar to 2019 Coronavirus (2019-NCoV) on hard, non-porous surfaces. Therefore, Micro Ninja 15-99 can be used against 2019 Novel Coronavirus (2019-nCov) when used in accordance with the directions for use against SARS Associated Coronavirus SARS cause of Severe Acute Respiratory Syndrome on hard, non-porous surfaces. Refer to the CDC website https:www.cdc.gov/coronavirus/2019-ncov/ for additional information.
Micro Ninja 15/99
ONE STEP DISINFECTANT CLEANER
MicroNinja 15/99 is a concentrated one-step, hospital use disinfectant cleaner that is effective against a broad spectrum of bacteria, is virucidal,* including HIV-1, the AIDS Virus and Hepatitis B Virus and Hepatitis C Virus, fungicidal, and inhibits the growth of mold and mildew, and their odors, when used as directed.
This product is a proven "one-step" disinfectant/cleaner/fungicide/mildewstat/virucide* which is effective in water up to 250 ppm hardness in the presence of 5% serum contamination. This product is a disinfectant that cleans, disinfects and deodorizes in one labor saving step.
Eliminates 99.9% of Staphylococcus aureus and Klebsiella pneumoniae in 15 seconds
A complete, chemically balanced disinfectant and sanitizer that provides clear use solutions even in the presence of hard water
Heavy duty disinfectant cleaner that cleans, disinfects and deodorizes in one labor saving step
An economical concentrate that can be diluted for use with trigger sprayers and/or pressure sprayers
Sanitizes fast, in just 15 seconds of contact time
Saves on labor times
Will disinfect, clean and deodorize surfaces in rest rooms and toilet areas, behind and under sinks and counters, garbage cans and garbage storage areas, and other places where bacterial growth can cause malodors
Will not leave grit or soap scum
Pack Size: 5 gallon/40 lbs (43lbs gross)
Build Consumer Trust with Micro Ninja 15/99
Communicating the efforts your car wash is implementing in response to COVID-19 will be key for building trust with your customers. We've created on-site signage to help you highlight your sanitization and disinfecting processes.
Find out what Qual Chem can do for your carwash!